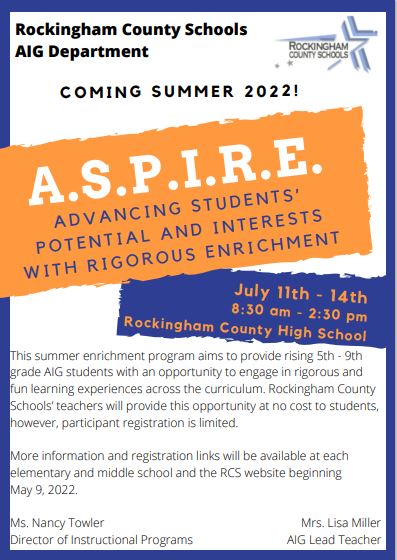 Rockingham County Schools AIG Department - ASPIRE Camp
Description
The RCS AIG Department is proud to host the A.S.P.I.R.E. (Advancing Students' Potential & Interests with Rigorous Enrichment) program this summer to rising 5th - 9th grade formally identified RCS AIG students. This program will be held at Rockingham County High School on July 10-13, 2023 from 8:30 am to 2:30 pm daily. A free breakfast and lunch will be served each day. Transportation will not be provided. Participants will engage in rigorous and exciting learning experiences in science & engineering, history, mathematics, and literature through real-world experiences, critical thinking activities, and creative problem solving. An overview of the sessions and the daily schedule can be found at https://bit.ly/3972yJQ. Students will choose one morning course and one afternoon course, which they will attend all week.
Volunteer Activities
We are in need of students that would be interested in volunteering at this summer's ASPIRE program that will be at Rockingham County High School. The dates will be July 10th - 13th from 8:30-2:30 each day. If you wish to participate you can gain up to 24 volunteer/service hours. Volunteer tasks will include assisting with check-in, begin assigned to an A.S.P.I.R.E session to help the instructor, possibly helping serve lunch, and organizing materials.
Contact Phone
(336) 4324255
Address
180 High School Rd
Reidsville
North Carolina
Rockingham
United States, 27320